Welcome to
Greg Gaub's Yo-Yo COLLECTION
---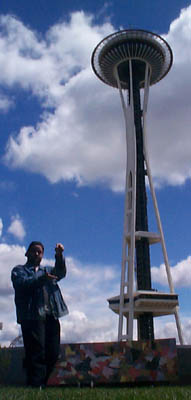 Ratings
* - no play value at all, souvenir value only
** - some/little play value, or redeeming novelty value
*** - average yo. plays ok, but nothing to write home about
**** - good yo. plays well, feels good. usually the one to let people borrow
***** - excellent yo. outstanding play and feel. keep this one to yourself!
Duncan
Hummingbird
*** - Starburst - solid wood axle, all hardwood. good feel, but hosed if it goes flying
*** - Trickster - solid wood axle, dyed and laminated hardwood body, otherwise same as starburst (yes, this one *did* go flying once.... *ONCE*!)
Pro-Yo
Tom Kuhn
*** - No-Jive 3-in-1 (natural) - same as junior, but slightly better feel due to standard size.
Yomega
Other
**** - proyo Ripoff - almost identical to the classic Pro-Yo, and with hologram sidewalls too! (pretty colors! ;-)
*** - Hyper Russell - fixed wood axle, not a *bad* player, but, eh.
** - Power Clutch YOYO - one of the worst auto-return yoyos I've had the misfortune to purchase. it feels and sounds as if it will fall apart on the next throw. I bought it pretty much ONLY for the holster/clip it came with.
Souvenir
Novelty
Holsters - I still carry my player in my pocket ;-)
---
LINKS!
Dave's YoYo Talk - bulletin board
---