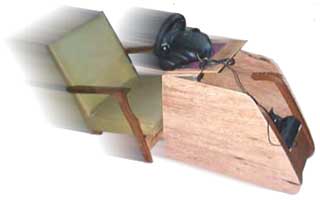 Project Name

Greg Gaub's Virtual Racing Chassis!

Purpose

To provide an ideal seating position for virtual racing using my new Logitech Driving Force Pro wheel with my Playstation 2 game console playing various driving games, including the upcoming Gran Turismo 4.

Materials

Thrift store furniture, scrap lumber, and hardware as needed

Plans

Make it up as I go! Woot!

Photos

Lots of inline, large-ish pics on the following pages. Click on the name of the gallery you want to see:

Raw Parts (furniture before modification)
It's drivable! - Still needs fine tuning

Links

eRacer Garage Links Page - Got tons of inspiration here. There's really no need for me to post any other links. Just go to that page, and be sure to have some spare time to waste. ;-) Here's a copy of their old links page, in case that one doesn't work or something.

E-mail Me!

If you have any suggestions for me as I make my VRC, or would like to praise me when it's complete, please feel free to send me an e-mail: vrc @

[email protected]

ggaub @

[email protected]

com.