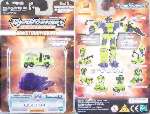 ""

| Strength: | Intelligence: | Speed: | Endurance: |
| --- | --- | --- | --- |
| Rank: | Courage: | Fireblast: | Skill: |
Spec Data Currently Unavailable
Toy condition: Loose, complete, mint condition, with full card (bubble removed).
Instructions: From my collection
Greg's Review: Same review for all the Universe Devastator parts: These are Micromasters, plain and simple. The vehicle modes look pretty good. The transformations are really simple. The Robot modes are plain with limited articulation, and the green is a great neon Devastator green, as it should be. These toys are recolors of the Japanese Micromaster Sixbuilder and are well chosen and well done.