AUTOBOT
SMOKESCREEN (McD)
1
2
3
4
5
6
7
8
9
10
Strength
9.0
Intelligence
7.0
Speed
6.0
Endurance
8.0
Rank
5.0
Courage
8.0
Fireblast
6.0
Skill
6.0
Quote: "Strike hard, strike straight."
SMOKESCREEN is a big, strong warrior that moves with slow deliberation and packs a lot of power. He makes every move count in battle. He doesn't waste time on fancy fighting styles - he plows in with all his might - fists and weapons swinging with full force. SMOKESCREEN channels all his energy and skills into the fight and tries to predict what the DECEPTICONS will do next. Can the strength and insight of SMOKESCREEN help the AUTOBOTS win the battle to claim the MINI-CONS?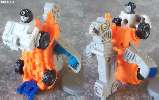 Toy Condition: Loose, Complete, Mint Condition
Toy Review: Ok, now we're getting lame. The robot mode is worse than the Red Alert Happy Meal toy, and the vehicle mode is barely passable. If it weren't for the lame gimmick of a pop off crane arm when he hits another object (button on his bumper triggers the pop off), it might be ok. Even another pull back motor would have been better. Oh well. Just repeat after me, "It's just a Happy Meal toy. It's just a Happy Meal toy..." Smokescreen is the right leg of the Autobot Pyramid, by the way.
---
Visitor Reviews
Added by: rtggfdgfdgfgfgf on December 04, 2005
Rated it:


Comments: SUCKIEST TOY EVER! BAD IN BOTH MODES, ESPECIALLY ROBOT, AND CRANE POP OF IS GAY