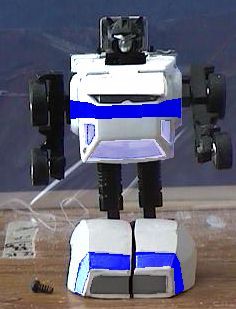 Picture Gallery 1-Developing the Idea
January-April 2005
Before I pitched the idea to Greg and Richard, I came up with a really rough kitbash so that I could email them pictures of what I was intending to do. All of our correspondence was via the internet because while they were located in Washington I was living on the other side of the world.
My original intention was to make screw on body parts so that all we had to do was take existing Cliffjumpers or Bumblebees and replace their body panels with our Jazz body parts. That way all I'd really have to do is fabricate new heads, modified feet, and a spoiler. I tend to be really lazy at the beginning of a project and I try to engineer a way to get the job accomplished with as little work as possible on my part. I figure more work isn't necessarily better if I can take shortcuts, so I planned on using existing toys as the foundation for the Jazzes.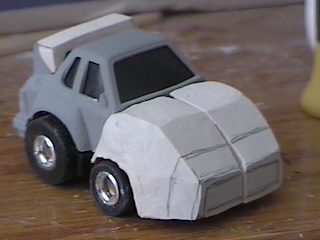 I imagined I would only be producing 4 piece body modification kits. Ultimately the success of this idea would hinge on our ability to secure a bunch of Cliffjumper and Bumblebee keychains. Unfortunately those were getting scarce in late 2004. I didn't know that at the outset so my initial kitbash was made with a Cliffjumper keychain I had lying around and some parts I sculpted out of Sculpey brand modeling clay. The head of the kitbash was made from parts off an old Jazz junker I had. I cut the face off of the Jazz and it fit perfectly on the headplate of the Cliffjumper keychain once I took Cliffjumper's face off. I thought it was strange how many of the 1984 deluxe Autobot cars have heads that are in the same scale as the minicars from that year. This was nice because it meant I didn't have to sculpt a new head from scratch.
Once I had the kitbash done, I took some pictures and did some simple photo manipulation to make it look white with blue stripes. This marked the first time I ever used digital trickery to help me envision an idea. Last year when I made the Cybcon Bumblebees I emailed pictures of the really rough prototype to the guys and Zobovor digitally colored it so I could have an idea what the final product would look like. I never thought of trying that before and I liked the idea so much that I started photo manipulating pictures of the early prototypes from the start of this project.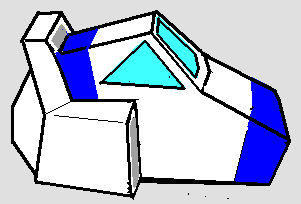 I figured people wouldn't like a minibot without wheels, so I kept them on the Cliffjumper kitbash, but Greg felt it would be better to go all the way and cover up the toy's wheels or eliminate them all together to be more faithful to the vehicle mode as it was depicted in the cartoon. At that point I began realizing it would be better to totally replace all of the body panels with parts of my own design.
I started thinking that just changing out the feet and head wouldn't really do justice to the idea. So the idea evolved and I began designing an entirely new outer body shell that would fit on an existing minibot chassis. I liked that idea a lot. If I could pull that off I'd be able to create all sorts of new minibots without having to engineer my own transforms. I went back to the drawing board and came up with a bunch of drawings of proposed looks for the new outer body. They varied slightly in the slope of the hood and other tiny details. I emailed them to the guys and we all agreed on on which shape we liked . I got busy sculpting the first prototype out of clay based on the design we all liked best.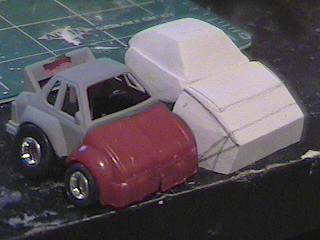 I used the Cliffjumper keychain as a size reference to keep the clay prototype I was sculpting in the correct scale. When I started out I sculpted the front end as one piece so the feet would be as symmertical as possible. I felt attaining symmetry was a big problem with the Bumblebees so on this project I wanted to make sure to get everything as proportionate as possible. Once I was happy with the front I cut it in half so the feet would seperate. When I sculpt body parts I start out with blocks of clay in the approximate size I need them, then I draw the shape I want to carve in pencil. I take my Dremel to the clay and get as close as I can to the shape I want. Sculpey is pretty delicate and although I've gotten pretty good at shaping it with my rotary tool and sculpting knives, I still can't get the exact shape I want for fear of the clay breaking apart. So once I have my approximate shape I make rubber molds of it and then make resin castings. These initial castings are what I use for further sculpting and finalizing the shape I want. Resin can take a lot more abuse than Sculpey can.