Concept

The simple sketch to the right shows the basic concept. I'll try to provide a more detailed drawing later. For now, envision the shape of an upright piano. The DX-7 is where the piano keys would be (makes sense, eh? ;-) and the rack mounted gear would be above the keyboard where sheet music and the "guts" of a piano would be.

Story

Well, my wife and I just purchased a new house (our first). In an effort to keep it from turning into the sprawling mess that most apartments are, she wishes to make a concerted effort to decorate and "organize" things. At the same time, I want to put my music rig somewhere other than in the boxes it currently lives in. I've always wanted a piano, upright or otherwise. So, the thought occured to me, "Why not build an upright-piano-style case/cabinet for my DX-7 and other rack mounted music stuff?"

Plan

My initial plan was to design it and build it by hand from raw lumber. Then, while talking about this with my family, my father suggested an old pump organ shell. Pump organs don't need the heavy-duty shells that pianos do, so it would not be as heavy/bulky. Also, pump organs tend to fall into disrepair and go for cheaper than pianos do, so I might be able to find an old pump organ for cheap, then just gut it and put in my music rig. That way I can spend more time on getting it to look good, rather than designing and constructing this thing from scratch. I've also found a man in my area with free parts for the shell of a Wurlitzer that I make take advatage of.

Gear I have/use (linked to most appropriate web page I could find)

Yamaha DX-7, the controller and source of classic sounds
Yamaha TG-33, 16 channel, 32 voice Tone Generator (non GM or GS, let alone XG, sniff sniff :(
Mackie Micro Series 1202, 12 Channel Mic/Line Mixer. 'Nuff Said!
Aleseis Midiverb II, 16 bit digital effect processor (not too clean)
Interex Music Spike Power strip, rack mounted power strip with 15 amp fuse
Macintosh Classic II (68030 processor), plenty of power for sequencing and data storage
Opcode Midi Translator to do the Mac/MIDI translating. ;-)
TEAC V-306 Stereo Cassette Deck (piece of junk) sitting on a rack mount shelf
Ultimate Support Systems Apex Keyboard Stand , with 3 shelves (other shelves were for gear I sold a while back).

Gear I want/need (what's the diff? ;-)

Rack Mount CD or HD recorder, or 4 track (to replace the piece of junk)
Alesis Midiverb 3 or higher (for cleaner reverb)
Stewart PA50B half-rack amplifier, or a full rack amp of some kind.
Opcode or other rack mount midi switcher, to provide more than one in to the Mac (got those bulk dumps from both Yamaha things, you know?)

Suggestions?

If you have any suggestions for me that might make this project easier, or work better, please make them! Just send an e-mail to me at dx7 AT ggaub DOT com. Thanks!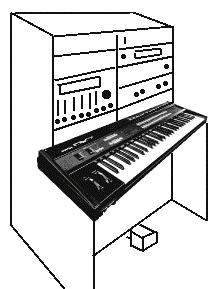 Project Concept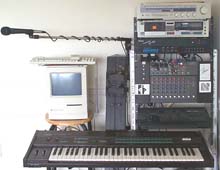 My Current Rig (blech!)
(click for larger image)